Controlling Account Transactions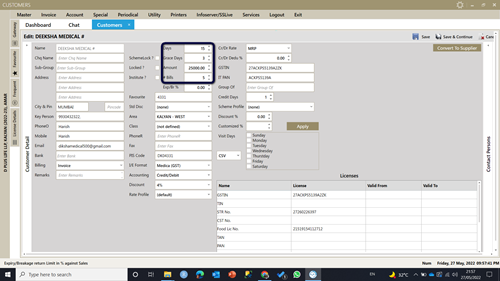 In Continuation of Previous Blog
We shall continue to know more about attributes and their functionalities
Limit Days are used to assign Credit limit to Party
e.g. 7, 15, 21 means you can give credit limit of 7 days or 15 days or any number of days you want to.
Grace Days these days are used to warn user and customer about their limit days and to avoid billing stoppage. Once grace days are also utilized and payment from party not received yet the software will not allow users to bill to customer. In such cases Super Users/Admins can allow to bill with their password.

Limit Rupees this field is used to mention the monetary credit limit you want to give to your customer. Beyond this limit billing to customer will stop, if outstanding amount not yet realised in software.

Limit Bills this is third and very rarely seen utility to assign credit limit to your customers. This limit is meant to number of outstanding bills pending. Once this limit is crossed software will not allow users to bill to that customer.

Found interesting?

If Yes like the blog, share and comment.

Stay tuned to know more and make your life using latest generation Software for your business.